Patalliro Art Contest Winners
Yes, it took a little while for me to get to this. It was surprisingly hard to pick the winners. There were some very good submissions and I got opinions from several people (none of whom knew who drew what, so there was no bias).

First and foremost, thank you to everyone who entered. It's a tiny little fandom and a little bitty comm so being able to hold a contest at all is a good thing.

And second...

dies_dandles submitted this piece. Everyone I spoke to thought very highly of this piece. It fit the theme well, it was very clean and has some very lovely drawings. So putting all of that together makes
dies_dandles the first winner. Congrats!



Picking the second winner was incredibly hard. I went through the entries several times thinking of the theme, humor, skill... After a lot of thought I finally decided on the second place winner.

finarvalost submitted this piece. It's a cute piece that fits the theme well and is almost like looking at a snippet that could be straight from the manga, with all three main characters applying their make-up. Congratulations :)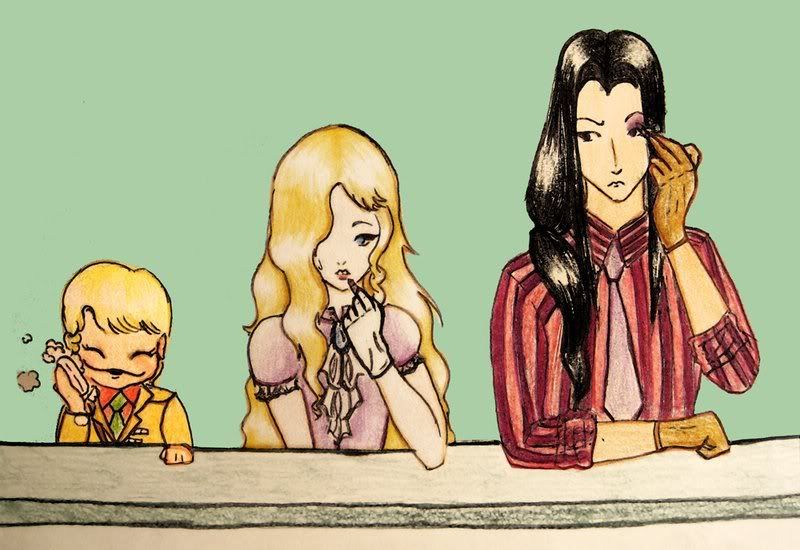 The other entries in no particular order:
susperia1 submitted this piece featuring Bancoran's day. I personally really like her drawing of Bancoran in the middle. Very sexy.

blackseraph4444 submitted the next two pieces. This first is a cute shot of Bancoran and Patalliro together.



The second is fun for people who remember Sailor Moon (I know I do!) A nice parody of Bancoran as Tuxedo Mask and Maraich as Sailor Moon. I like this piece quite a bit, too.




Another thank you to all the artists for making this contest possible.